Chalgrove & Watlington Children's Centre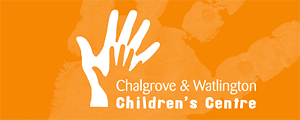 Surestart Children's Centres are an important part of the government's 'Every Child Matters' strategy to improve outcomes for young children. They are one-stop shops providing information and a range of services for families.

Centres provide activities in a safe, supportive and fun environment for young children (primarily under five years), with their parents - including dads! - grandparents or carers. Parents-to-be are welcome too.
Chalgrove & Watlington Children's Centre maintains their own website with further details. Please follow the link from the bottom of the page, or email office@chalgrovewatlingtoncc.org.
You can also follow us on our Facebook page here: www.facebook.com/chalwatcc/
Chalgrove & Watlington Children's Centre External Link
Chalgrove & Watlington Children's Centre