Walking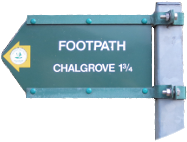 There are a number of public footpaths accessible from Chalgrove. Although not the most exciting walking, the landscape around Chalgrove offers the opportunity for moderate exercise or quiet contemplation in a peaceful rural setting. There are a couple of attractive country pubs within reach and the walks offer distant views of the Chiltern Hills, Whittenham Clumps and Didcot Power Station!
Walking Groups
Chalgrove Health Walkers - weekly walks on Friday mornings. Contact Margaret Wiggall on 01865 890730 for further details.
CWaCS - occasional walks from Chalgrove into the surrounding countryside
St Mary's Church - occassional Sunday walks followed by refreshments.
Circular Walks From Chalgrove
Brightwell Baldwin (3.1 miles / 5 km)
Hare's Leap Loop (3.2 miles / 5.1 km)
Berrick Prior (5.2 miles / 8.3 km)
Ascott Park (2.9 miles / 4.6 km)
Dog Walking
There are many dog owners in the village that make use of Chalgrove footpaths and the recreation ground. Walking your dog in the village is a great way to meet other village residents. Please always clear up after your dog, wherever it is. There are many poo disposal bins located within the village and the Cleaner Chalgrove group provide free poo-bags for use when you have forgotten yours.
Shakespeare's Way
Did you know that Shakespeare's Way, a long distance path running from Strattford-upon-Avon to the Globe theatre in London for a distance of 146 miles, passes through the village? You can find our more information at the link below.
Other Walks