Chalgrove Airfield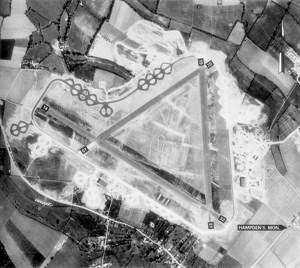 Chalgrove Common, as it was known, was considered an ideal site for an Airfield during World War Two. Construction began during 1943 and it was designated Station 465 for the United States Army Air Force (9th Air Force) which was being transferred from North African Operations. This was a Tactical Air Force 'building up' its operational strength towards the intended invasion of German Occupied Europe.
Early January 1944 saw Units of the 10th Photo Reconnaissance Group arriving with 4 Squadrons of Lockheed F5 (Lightning) and a Flight of Douglas F3's for Night Photography. Their task was to photograph all areas of the occupied countries that were to become potential invasion sites, also to record the results of raids on important targets by the 9th Air Force's Tactical Bomber Squadrons. In addition to these, dangerous low level 'Dicing Missions', as they were known, were also flown along the proposed invasion beaches photographing the enemy defences.
Three F3 (Havoc) of the 155th Flight were the first aircraft to fly over Normandy on the night of the 5th June 1944 photographing any possible movement by the German Army; none were reported. After a 'foothold' had been established in Normandy the whole Group transferred to airfields in France in August 1944.
Following their departure four Squadrons of C47 Transport Aircraft were based at Chalgrove together with Pathfinder Paratroops of the 101st Airborne division, U.S. Army. The 'Pathfinders' were parachuted into Holland for the 'Market Garden' operation in September. Later some of the survivors returned to Chalgrove.
The next vital operation was the resupplying of the beleaguered U.S. Army at Bastogne during the 'Battle of the Bulge'. Pathfinder troops were 'dropped' first to mark the correct drop zones to receive essential supplies being carried by the on following C47 Squadrons. This period, around the end of 1944, was the Airfield's busiest during its 18 months of operations. All the Squadrons and Troops had departed from the Airfield by March 1945. 
April 1945 then saw the arrival of the 7th P.R.G., U.S.A.A.F. from Mount Farm (Berinsfield), shortly before the end of the hostilities. All the U.S.A.A.F. personnel had left Chalgrove by October 1945.
R.A.F. Chalgrove finally became a satellite of R.A.F. Benson with a small contingent of airmen based here for a few months.
At the same time, from 1946 onwards, the Martin-Baker Aircraft Company Limited received M.O.D. permission to use the airfield for aircraft ejection seat trials. Still based here today they are now the world's leading ejection seat manufacturers.
© All material is copyright of Chalgrove History Group