Cycling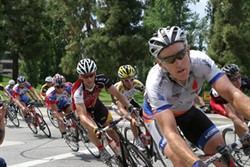 Regular cycling can help you lose weight, reduce stress and improve your fitness. It's a low-impact style of exercise so it's easier on your joints than running or other high-impact aerobic activities, but it still helps you keep fit. Cycling is the third most popular recreational activity in the UK with an estimated 3.1 million people riding a bicycle each month. After the successes of the British Olympic cyclists in the 2012 Olympic Games, the number of people who cycle regularly continues to rise.
Road Riding
Cycling in Oxfordshire is very popular and the area around Chalgrove is host to many fine rides, whether you want a short outing after a day in the office or a more significant expedition over the weekend. You don't have to go very far from Chalgrove to experience quite testing climbs, long sprints and wonderful downhill free-wheels. In fact the Chalgrove bypass is used by a local cycle club as part of a time-trial route and some of the roads on local hills are marked with hill climb finishes. The traffic on the country lanes around Chalgrove is relatively quiet and other road users are accomodating of the many cyclists who can be seen out riding.
Mountain Biking
The Chiltern Hills are only a few miles from Chalgrove and attractive to Mountain Bikers. The free carpark in Watlington is often busy on Summer days with numerous cyclists visiting to experience the wild countryside, spectacular views and cycling thrills on offer.
Routes
There are many websites available that host user generated cycle routes and maps, both on and off road. Try serching on google to see what you can find. There is a list of related links at the bottom of this page with a local club and also other sites hosting cycle routes in the Oxfordshire area.
Rentals
There are some shops in Oxford that will rent a bicycle or even a tandem if you'd like a day out in the saddle.
Parts and Maintenance
The easiest places to obtain bicycle spares in the region are either Oxford, which has several good cycle shops on the Cowley Road, or Reading where there are great shops in Caversham and the city centre. The shops in either location offer sales, servicing and bike fitting services.